Humble Brag: A Round-Up of Reviews from our Blink Beauties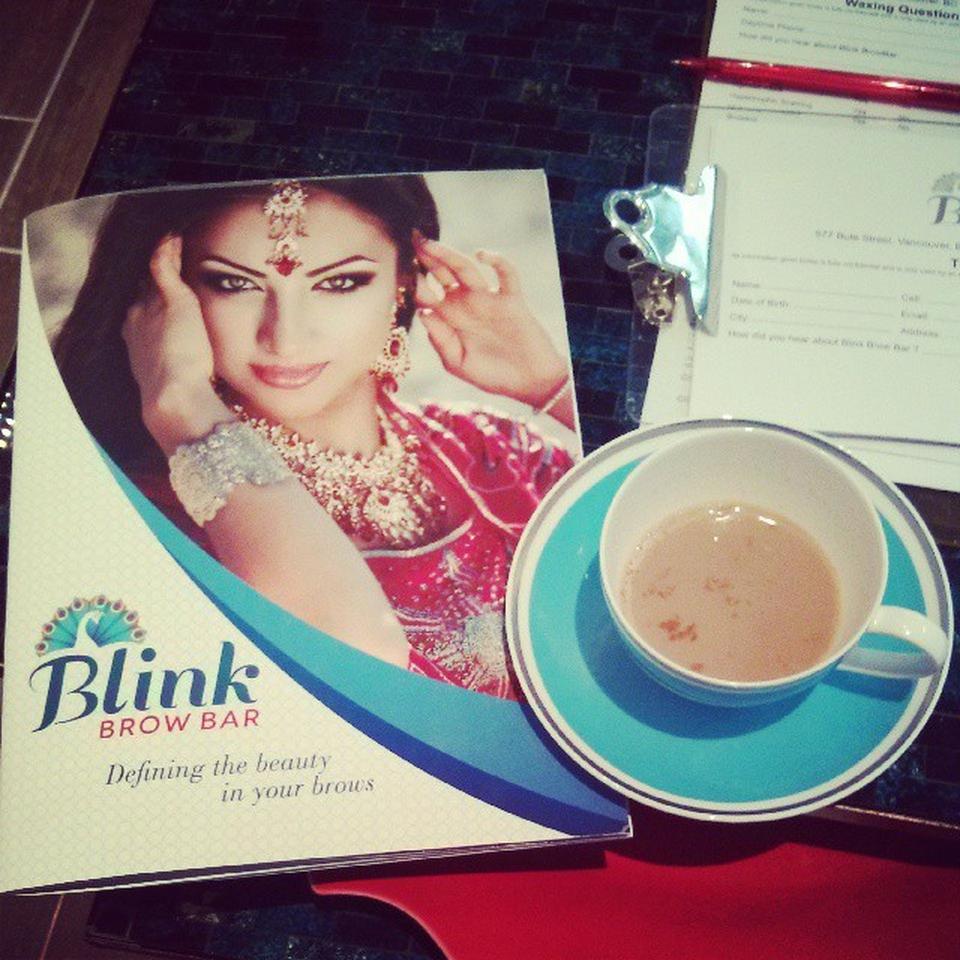 Scotland's famous poet Robbie Burns once sagely mused about what it would be like to see ourselves as others see us (though he said it in the much more Scots way "To see oursels as ithers see us").
Naturally back in the 1700s Robbie and his peers didn't benefit from being able to check social media to see exactly what others thought of them. Times have changed and we can – gratefully – find out what our clients think of us!
At our Vancouver eyebrow threading studio we aim to offer our clients the very best customer service as we shape their brows in our boutique spa setting. When we look at this round-up of reviews from our #BlinkBeauties, we're happy to see that we're on the right track.
Image c/o BeautyNineToFive.com
Yay for Yelp
We've earned 5-stars from 47 reviewers on Yelp,  like Posh. L., who gave us top marks after her first visit to Blink Brow Bar (we love hearing you're going to stick around!):
No matter which of our award-winning treatments you come to enjoy (eyebrow threading, eyebrow and eyelash tinting, or facial + body waxing), we always try to make sure you get our very best advice on what will work for you – even if that means telling you not to spend money for a certain service.
Read what we were able to teach Seattle-based Desiree G. about her beautiful brows:
"I've been here a couple of times since I am often in Vancouver but live in Seattle. what I like about this place is that they give you honest advice about your brows and what you can do to achieve your desired look. I wanted my brows threaded and then tinted. they advised against the tinting in my case and suggested filling in my brows instead. I was using the wrong color to fill in my brows. learned some new things and I find that their threading is somehow less painful than at other places."
#BlinkBeauty Anna M. was thrilled by our high standards of cleanliness, service (yes – we serve Chai tea and have chocolates!), and loved Blink Brow Bar's convenient online booking complete with text message reminders:
"Went today to get eyebrow & eyelash tinting. It was my very first time, so I was nervous about the outcome. I chose this place due to the great Yelp reviews and I so happy I did…this place is AWESOME! Besides that it's good priced, it's also super cute & clean place with friendly employees. I'm a bit OCD and I have to say this place is super clean. You get text message appointment reminders, which is great!
The lady that did my tint was named Deep and she was awesome! I have naturally blond eyebrows and wanted them darker, but still natural. She listened (which is super important to me) and gave suggestions, but let me in the end make the choice. She was very gentle, explained everything in detail before doing it and made me feel very comfortable. Best part while waiting she gave me a hand massage.
The chairs are super comfortable as well, so it was easy to relax for 10 minutes while waiting for the tint to work its magic. I'm super happy with the outcome and it's better than I expected! Super natural and just what I wanted. Before leaving she offered water or Chai to go. Definitely going to get it done again in the future and I would recommend this place to everybody!!!"
Go Google
We love Blink Brow Bar's location in beautiful Coal Harbour, and appreciate that so many of our clients make the effort to travel to us for their brow care. Our #BlinkBeauties come from all over the Lower Mainland and beyond!
Abby A. says in her Google review, traveling about an hour was "completely worth it." She had her brows and upper lip done and was happy with the whole experience, noting, "I got a pallet and brush (as well as complimentary soap), and Kiran showed me exactly what to do and how to use it.
The atmosphere is very warm, at ease, clean, and welcoming. The customer service was excellent. From the massage, to the chai tea, and the outcome of how my eyebrows looked, my experience couldn't have been more perfect. It was also a lot less painful than I expected. They are amazing at what they do."
Heather Vince came to us very recently and her short and sweet review warmed our hearts: "Blink is the best and I've tried many. I won't go anywhere else." Repeat business is what we strive for!
Hip to be on FourSquare
We couldn't agree more with Danielle, who reviewed Blink on FourSquare: "If you haven't had a brow massage, you haven't lived life." And we are so pleased she says our service is fantastic and we "do amazing brows."
Roula Hanna says, "My eyebrows never looked so good" (and we're so happy you appreciated your brow specialist took her time to show you what looks best for you!).
We have more and more guys coming to us for eyebrow threading. It's great to hear from Angel Clemente that his first brow threading with us was great. He says, "It didn't hurt at all" (it really isn't too bad!). And he says Blink has, "Friendly staff, great location, nice decor. You can't go wrong." (We're blushing!)
Love the below shot Shelley C. shared a few years back on Foursquare:
Fantastic on Facebook
The love continues on Facebook, where all nine of our reviewers give us the full five stars.
Here's why Rafaela has kept coming back to us for two years (thanks so much!):
And a recent shout out from Jackie for all the little extras we offer at Blink Brow Bar Vancouver. We're so glad you like our services!
Love our Tweeps
We have the #BestClientsEver and have some great conversations about things like ways to up your #eyebrowgame. And being called the best in Vancity is always nice: "The best eyebrow threading in the whole world @BlinkBrowBarVan #vancity #eyebrows #threading"
For the win!
Sure we can tell you we're proud of what we do at Blink Brow Bar Vancouver. But if you haven't been to see us yet, doesn't it mean more to hear all the good things our clients are saying about Blink Brow Bar?
If you're ready to be one of our #BlinkBeauties or #BlinkBrowBros, call Blink Brow Bar for an appointmentor book your next eyebrow threading appointment online. Our Vancouver eyebrow threading shop is open daily at 577 Bute Street in beautiful Vancouver BC.