The Blink Brow Bar Team's Fave 2016 Grad + Prom Trends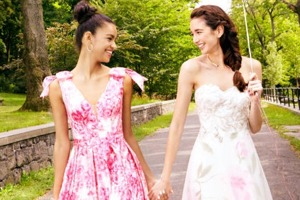 This is a busy time for our #BlinkBeauties and their friends who are in their final year of high school (or dating a senior!). Between finishing end-of-year assignments and gearing up for final exams, how is the Class of 2016 supposed to fit in time for getting ready for prom?
We can't help with essays or tests, ladies, but we've done your homework for everything you need to know about what's hot for Grad 2016 dresses, hair, and makeup! Here's your cheat sheet — a collection of the Blink Brow Bar team's fave prom and grad trends for this year.
Dresses: Cutouts and draped flowing fabrics, oh my!
Have you said yes to the dress or are you still searching for just the right gown for the big event? Whether you're looking to buy off the rack, browsing at boutiques, or trying your luck in second-hand shops, we did some research into which styles are making headlines this prom season.
With an eye to different wallet and body sizes as well as style preferences, Teen Vogue picked The 100 Coolest Dresses to Wear to Prom This Year. We're smitten with all the artful cutouts for prom and grad 2016, from slit skirts to bare sides or backs and everything in between. And the two-piece dresses that make glamour compatible with warmer weather are a wonderful new look for formals!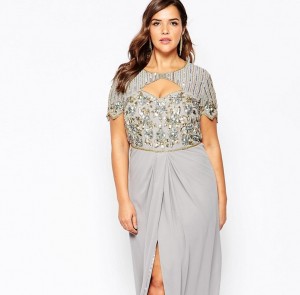 Teen fashion blogger Justina Sharp of A Bent Piece of Wire told NPR about the vintage gown she found in a thrift store prom that she called, "Mad Men 1960s pink." She says 2016 is all about classic elegance with youthful embellishments like the trendy cutouts and colourful fabrics.
Super short and tight, she says, are not in style this year.
Seventeen magazine's amazing prom dress trends 2016 likewise showcase dresses that boast long, flowing skirts, pretty pastel colours, cut outs (there are bared shoulders, middles, sides, and backs aplenty this season!), and romantic lace or beaded details.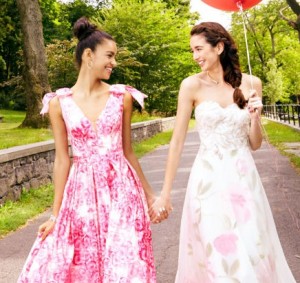 Short dresses feature flirty full skirts (think 1950s) or pretty beaded and fanciful details but are vastly outnumbered by floor-length skirts. All the stunning two-piece dresses certainly stand out as a 2016 look for prom!
Hair: Tousled up-do or long and flowing top the list
Julyne Derrick of About Style reviews the latest styles in her article Prom Hair: The 10 Hottest Trends for 2016. Her advice is to pick the dress first, and then a hairstyle that will complement the dress – and then decide your make-up.
Styles that make the grade for her top 10 list (hint: no tiaras to be found) include mussy updos, classic updos, wearing long hair down and loose, buns or braids, and adding a bit of bling to updos with pretty headbands or jewels.
If you're the kind of gal who looks to celebrities for your hairstyle ideas, look no further than US Weekly's prom 2016 hair inspiration from the red carpet. Aside from Selena Gomez's feminine updo and the star accents Ashley Tisdale wore in her long tresses, the style that stood out to us was the Danish Girl actress Amber Heard's faux bob: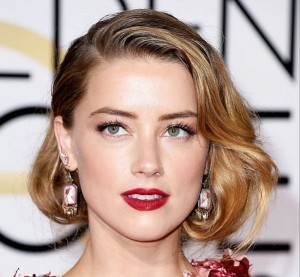 Makeup – boldly expressive
When we looked to the advice offered by the experts for makeup trends for prom 2016 we found Teen Vogue's celebrity's guide to pulling off vintage makeup looks for prom. We love the varied looks and modern takes on classics ranging from Jazz Age flapper-inspired makeup with bold lips and well defined brows (note how the thicker brow trend prevails over the roaring twenties!), sixties Mod, or glam goth like the early nineties.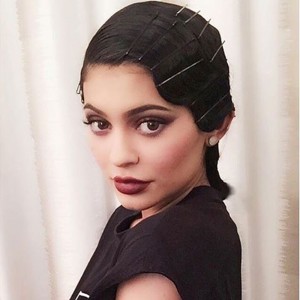 Whichever makeup you feel will be most flattering with your dress and hair, leave shaping your brows and arches to Blink Brow Bar Vancouver's eyebrow threading specialists. You can relax with a cup of our signature Chai tea in our tranquil Coal Harbour space while we use white pencil to draw our suggested shape for your brows – so you can see how it looks before we start.
We then remove individual hairs with our practically painless technique to achieve exacting results. If you'd like you can ask for brow and lash tinting as well as eyebrow threading.
Call Blink Brow Bar to make an appointment or book your time online so your brows complete your look for prom and grad. Our Vancouver eyebrow threading shop is open daily at 577 Bute Street in beautiful Vancouver, BC.