Top Beauty Trends of 2016, a Blink Team Round-Up!
Oooh! 2016 has been a whirlwind so far, hasn't it? But a "good" busy, you know? We've found a spare moment, though, so we thought we'd stop and swoon a little over this year's top beauty trends! 
Before we look ahead to 2016 beauty trends, let's reflect on the hot styles of 2015 that influenced fashion around the world. It was a year when eyebrow threading was as big a trend for men as it is for women – so much so that our new Prime Minister Justin Trudeau earned special mention in an article in The Guardian for his well styled man brows [read the whole thing here: Eyebro: Justin Trudeau, Canada's new prime minister, gives good brow (and here's how!)].
It was also the year of the #KateEffect, with the well-defined brows of Catherine the Duchess of Cambridge and stars like Taylor Swift trending around the globe.
So where are the top beauty trends of 2016 going to take us? It's going to be interesting to see what unfolds as we move through the seasons, but check out the previews of spring fashion week trends:
Blue eye shadow
The models of the big names at New York Fashion Week walked the runways with blue eyeshadow, ranging from cobalt and powder blue to vibrant turquoise. Dark and heavy – smokey smears – or artfully accentuating just portions of the upper and lower lashes. We're in love with this bold look c/o Elle Canada: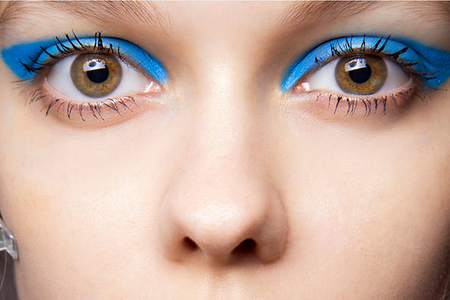 Bold brows and lashes
So we've seen the bold power brow is continuing to reign, but this year say farewell to the au naturel lashes and a return to ample use of the mascara wand to very dramatic effect. Love this look (below) from Harper's Bazaar:
Far out metallic fun
Several designers played with pretty metallic eyeshadow, sparkling lashes, and even shimmering lips. Is it just us, or is it a fitting trend for the spring when the world is mourning the loss of music legend David Bowie, who gave us Ziggy Stardust? This Giambattista Valli Spring 2016 look in Vogue is perfection, no?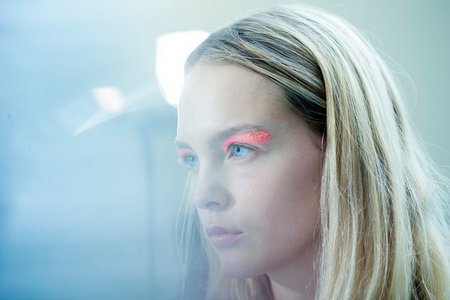 Well-lined lids
Sharpen those eye pencils, #BlinkBeauties! Note the proliferation of black eyeliner, charcoal, and dark brown eye pencils defining eyelids. Some opt for the basic top liner while others line both top and bottom, perhaps with a wing or full cat's eye for something a little more sultry.
Bright, bold kissers
Lips this year are stained deep, rich crimsons and painted brightly in ruby red and vibrant orange. Make no mistake that such dramatic lip definition definitely requires well groomed and defined brows to pull off this look! Here's a great Glamour.com // Lipstick Blog post about the beauty of bold brows + bold lips: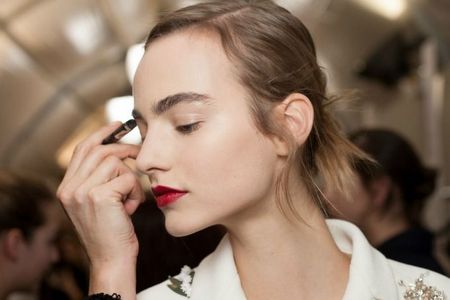 Ready to put your best face forward for 2016, #BlinkBeauties? We're here to help you look and feel your best.
Call Blink Brow Bar for an appointment or book online. Our Vancouver eyebrow threading shop is open daily at 577 Bute Street with eyebrow threading services starting at $21; eyebrow or eyelash tinting from $19; and body waxing from $17.